Date

2011/06/01/Wed 15:33

Category
Recently I've taken a bit of a break from cosplay, and a month ago I got this urge to sew something for myself. I started with a scarf, and then I found some fabric that I'd had for a few years. It was given to me by my aunt, uncle and cousins about three years ago at Christmas. It's this lovely maroon and black floral damusk that they'd come by. I always intended to make some beautiful corset with it, but for now, it's become a skirt.
I had a vision in my head of what I wanted it to look like, and making a pattern for it didn't take very long at all. Though mirroring patterns in the fabric on my skirt segments did.
Here the skirt is sewn, and I top stitched all the seams to strengthen them. I didn't want to overlock them as I was using quite heavy fabrics already and didn't want to add to that bulk. I was also trying out how the detailing on the edge of the skirt would look. It's notoriously hard to find nice black lace in Melbourne, though I did manage to find something with a floral pattern that almost echoed the design on the damusk.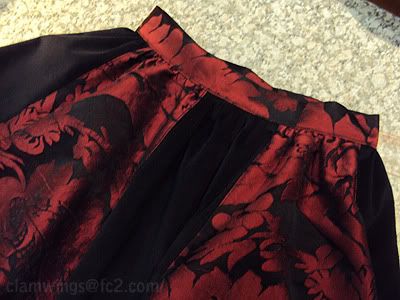 Skirt gathered to the re-enforced waistband. It's not obvious, but because I wanted to be able to bustle the back of the skirt, I couldn't put the zip down the centre back, so it's off to a side and the waisband covers this and closes with buttons at the centre back.
I didn't mean to, but I got really lucky with matching patterns in the waistband. And the centre back closure? A complete fluke!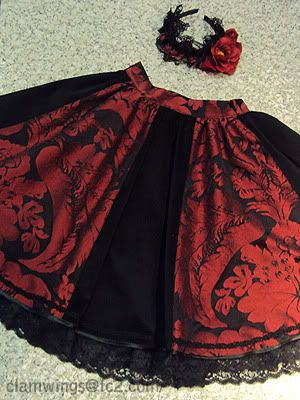 It took a lot of time to pin and sew the bias binding, rose trim and lace around the edge of the skirt, but I'm so glad with how it turned out. And I even got to making a hair accesory to match the skirt!
And here's it worn to a lolita make up event at Illamasqua, with some of the other gorgeous Melbourne lolitas!
I can't even begin to remember how long it's been since I've sewn something like this for myself, so finishing it with (what I consider to be) a high degree of quality, has made me really happy and proud of myself.