Date

2012/02/06/Mon 23:48

Category
Whenever someone's new to cosplay, it's often advised for them to start by modifying pre-bought garments to suit the character. But whether you've been in the hobby for 4 months or 4 years (or more!), I still think it's a viable option for any skill level. Altering garments can range from adding small adornments, to completely re-making something, like I did in the latter part of last year!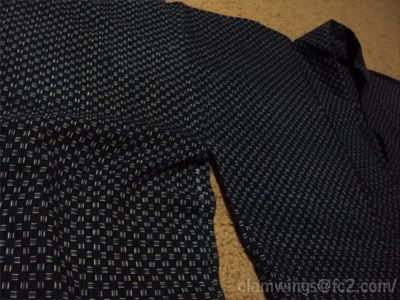 For a
Vocaloid PV
, I was thinking I would have to make my first kimono. But, after searching for materials, I came across the perfect yukata for just $20 - a fraction of what the fabric would've cost me.
However, Rin's yukata has a small white edge on the tomoeri (collar protector), so I grabbed some white fabric that I had laying around, folded over the longest side and then pickstitched it into place. It was important to handsew this because it was a temporary amendment, and I didn't want to damage the fabric. If you're not confident with handsewing, there's also a range of tapes on the market specifically for altering the lengths of pants, skits, sleeves etc.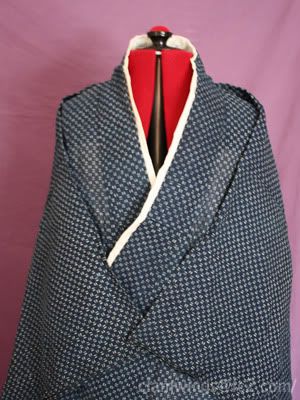 Finished product! Not that much different, but an alteration all the same!
Now, this modifcation's a bit more major. I picked up this half-finished silk wedding dress a few years ago from a bargain bin. It was only about $10-15 and I didn't have any plans for it, but figured that if nothing came up, I could still use the fabric. After talking to
Shona
, we decided to cosplay
Cendrillon
together, and I'd nearly forgotten all about the dress!
So I made a calico mockup and unpicked all the (handsewn!) seams. Not much room for error, is there? I had
just
enough fabric from the bubble-y bodice of the dress. If it'd been any other style, it wouldn't have worked. Because of the fragile nature of the silk, I also had to reinforce it with interfacing.
Now the fun part! Seeing
Mon
do lots of lace and applique work, I definitely wanted to try some of my own. It was really fun creating my own patterns, and I'm very lucky to have picked a lace where the designs were mirrored, because it definitely wasn't something I was looking for when I bought it. I was a little worried about the different whites, but the satin binding I used ended up matching the lace's white, so it worked out great!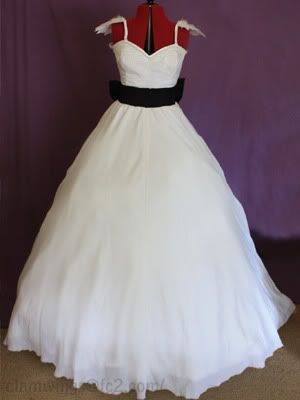 The finished product! After I was done with the bodice, I just had to create a few accesories, re-attatch the skirt and put a zip down the back. The feathered shoulders were made from gluing feathers from another project onto some shoulder pads before then handsewing them onto the straps. The waist sash was also really simple - a rectangle of one-way stretch fabric that I put some boning into so that it'd add more definition to the waist.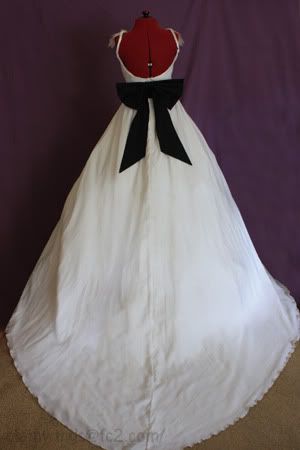 Back view - I'm really in love with the dress' train! It has such a gorgeous shape.
Bodice details. I added some pearls along the satin bias, and little fake roses at the intersection of the straps and bodice. I'd love to have done some beading on the lace work, but ran out of time!
And my headband! The base was a Spotlight find, and all the flowers were glued onto a piece of fabric before being attached to the headband.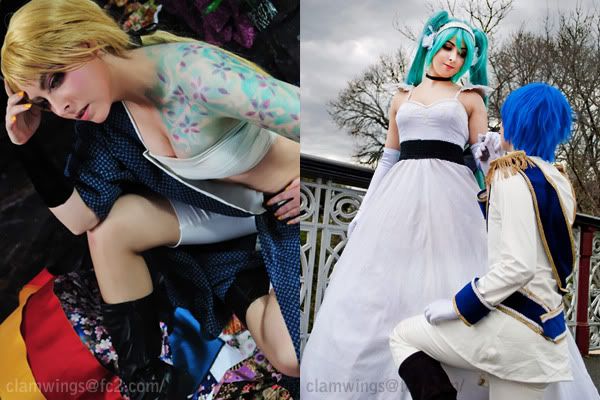 And lastly, how the costumes ended up in their respective photoshoots - not too bad at all!