Saikano: Chise's gun
Date

2010/12/14/Tue 16:17

Category
Hello there again fc2! Sorry for abandoning you in November, but I'm back with lots of things to share. Most of my November was taken up with prep for the Madman National Champtionships. Specifically, the creation of Chise's gun (from Saikano). My predominant reference was
this
, and this is essentially the process I went through.
First detailed sketch, half finished. This gun is by far the most complex thing I've had to replicate. I don't have a very vast knowledge when it comes to mechanically technical things, so even just drawing and sketching everything out was quite difficult for me. After that was done, I made a to-scale lineart of the gun to print out and use as reference throughout the gun's creation.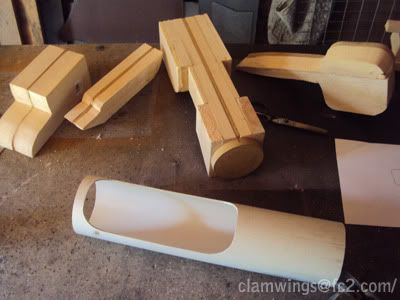 These are the very first pieces that were constructed. All are varying thicknesses of balsa wood, laminated onto a web of MDF - a technique we (my father and I) use for most props now. L-R: bottom/shooting end, 'wing' add-on, top/hub end, 'wing' and central block and tubing that forms the area where my arm goes into the gun.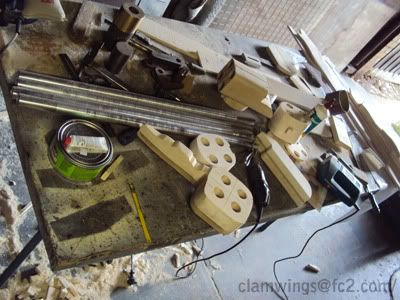 A lot of the bits laid out, and the working space in our garage.
The first mocked up 'put together' of the gun. The aluminium tubing here was picked up from a local supplier, however we ran each length through a lathe to take off some weight and thickness from them. All the holes through the balsa/MDF blocks were formed with a combination of drill press and lathe and was very time consuming.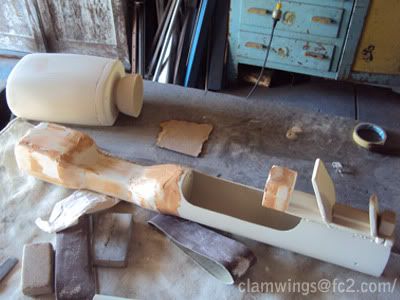 After everything was constructed and fine-sanded, they were all glued and screwed into place. Two layers of spray putty applied through an air gun(white), sanded back, and beginning of puttying up un-even places (orange). You can also see the hub of my wing pack at the same stage of completion behind the end of the gun!
Fitting wires and fittings for lights and additional pieces, before adding some last bits of detail with foam.
Painting the base colour of the gun with an air gun again. I got a really nice smooth and even finish this way, but also attracted a lot of ants somehow...they really enjoyed crawling around inside it. o_x I then did a lot of dramatic dry brushing with acrylic paint, and sprayed it with a gloss sealant and glitter spray.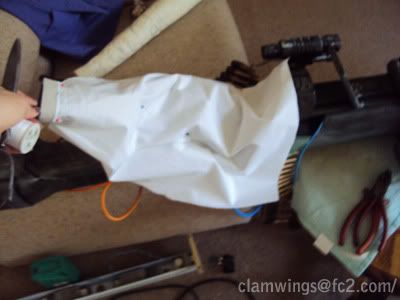 After all the paint work was done, I then set about creating the fabric 'sleeve' that would sit in the PVC-pipe section and go up my arm. This was just made out of plain cotton that was heavily interfaced. This velcro'd into the arm fitting and I built up wires and gadgets around this to replicate the original artwork. Shown here is when I was working the white fabric of the 'shirt' over everything. After that, I fitted the EL wires amongst everything. The battery pack sits in the back of the PVC pipe with the same pack for the laser lights that come out the front of the gun.
I then dry brushed the 'shirt' part of the sleeve to make it less pristinely clean and added some last touches in the form of 'bolts', which were actually sequins held in place with screws. I opted for sequins as well so that they'd show up on stage under bright lights.
It's around 2m long, weights 3 - 4.5kg and took 3 weeks to construct.