Incoming - shoot week!
Date

2011/01/04/Tue 18:10

Category
Got an incoming week of awesome shoots with the amazing
Sab
from Perth coming up! I'm really excited. Sab's one of those photographers that I love the work of and never got to shoot with...mostly because of the living at different ends of the continent. But will fix that now! 8D <3
Costumes planned are:
Kagamine Rin (Gemini vers.) - VOCALOID, Project Diva2 (Gemini vers.)
Celty Sturluson - Durarara!!
Tsukimi - Kuragehime
Tohru Mutuo - Shiki
And for the rest of January:
Kagamine Rin (Synchronicity vers.) - VOCALOID2
Wako Agemaki (school uniform vers.) - Star Driver
Sylvia Ji inspired artistic shoot
I've also nearly finished Sakana-chan's (Star Driver) going away dress.
Just need to put in a zip and make a waist tie and she's done! I think I cut the pieces for her out about three weeks ago, but it feels good to put her altogether. Now all I need is a shoot! OTL
Because slumped on a suitcase isn't a good look for a dress.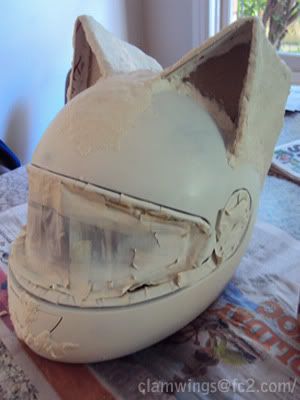 And this is how Celty is looking at the moment...not very inspiring. XD; I decided to go with making card forms of her ears, and I'm using homemade paper clay to work up their shape and body. At the moment the helmet's outside drying, I really hope it turns out alright!