Good-bye Celty
Date

2011/01/27/Thu 11:47

Category
Last time I mentioned Celty was a few weeks ago. Since then, she's been finished - and just in time for the photoshoot too! I ended up spending a week making her bodysuit and finishing the helmet, I would've liked to have spent just a day more on her, but that's always the way that things go!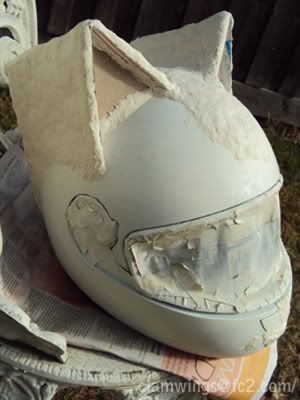 Sitting out to try, I've paperclay'd over the ears, as well as the vents on the front and top of the original helmet. And then I tried sanding everything back with very limited success. I'm definitely not a fan of paperclay.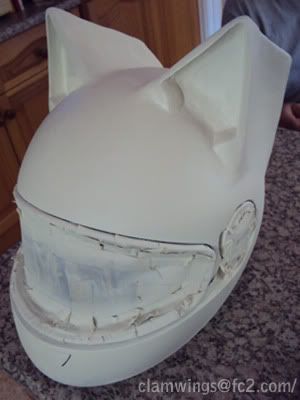 However! I am a huge fan of putty and the wonders that it can do. Once I had all the paperclay covered, I sanded and re-puttied low areas several times. I also added the wedges in the ears with some foam and put more putty over that to blend everything in.
And from the back.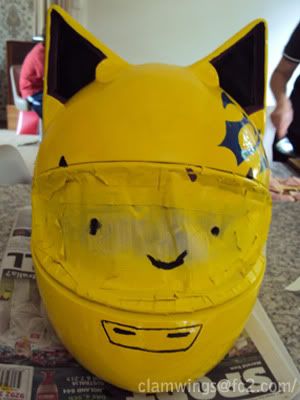 Once I had to get to painting, I put undercoat over the putty and started on the yellow, which was an enamel based spray. To other future-Celtys, I highly recommend not rushing your spray job. The high gloss enamel sprays that I was using really needed at least 12-24 hours to fully dry when masking, even though they were 'quick dry'. Because of this, areas that I had to re-spray ended up bubbling when masked. Peeling the masking tape off slowly did help, but not as much as leaving the paint to 100% dry would've.
Also, enamel sprays are really a finishing spray, so it's very difficult to put anything that isn't also an enamel over them. So for the acrylic inside of the ears, I had to mask that entire area off. Masking tape is also called that for a reason...so for the 'S' on her left side, I'd recommend sticking some thick masking tape on grease-proof paper, cutting out a stencil that way and then sticking it onto the helmet to spray the blue on. Just my 2c! XD
Before plotting all the details, it's also a good idea to check the helmet visor will fit back on and won't obscure where you have to put your details. Unfortunately this happenend with me with the little black inverted 'V's on the top of where the visor sits.
Regardless of my setbacks and little faux-pas in the last mile of finishing this, I still felt like it came out looking really quite nice! I'm very happy with the end result.
Here's also a quick preview of our (height accurate!) group for our main characters photoshoot! I'm so glad that we could get everyone together and that I had the opportunity to shoot with some really lovely Melbourne people. <3