Making of Pit (Kid Icarus: Uprising/Smash Bros. BRAWL)
Date

2013/08/22/Thu 23:51

Category
Earlier this year I began making Pit for a SMASH Bros. group, but then decided to enter the costume into Australia's
Madman National Cosplay competition
- winning first in the Melbourne prelim, I'll be in the finals in a few months which is super exciting but very nerve racking.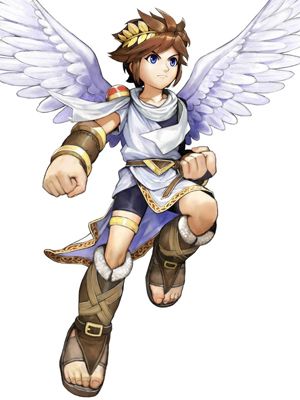 As with all my costumes, I started with sketches of the various elements to the costume, and created them from the bottom most layer - upwards. The blue body suit was very straight forward, I haven't drafted for stretch fabrics from scratch before, but it was just a matter of remembering to divide my measurements by the stretch of the fabric.
Next was the toga which I created from a cotton-silk blend and drafted using
draping techniques
. I folded my fabric on the bias (creating the maximum draping effect) and sat it on my dressform and pinned the drapes and fabric into place before then trying it on.
Off of a form, I could clearly see the pattern for the top of the toga better and pin sections into secure placings. I decided to make the top and 'skirt' of the toga in different pieces as they drape in different ways.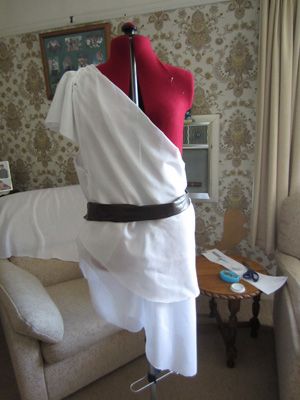 I used the same drape-and-pin technique to create the sleeve and two skirts - continually making sure that the majority of my fabric was on the bias. You can also see the beginnings of my belt which was crafted from a synthetic-backed suede which was then simply stay stitched and roll hemmed on an overlocker to finish and seal the edge in white.
Next was to create the pattern on the edge of the toga which required some trial and error...initially, I was attempting to create a mask of the gold design with masking tape (stuck onto baking paper so that I could trace and cut it out)...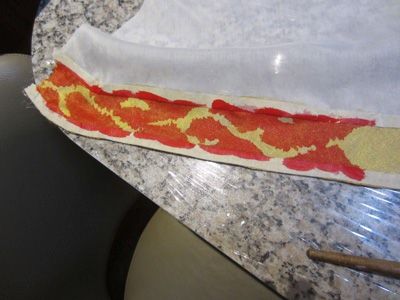 ...but that did not go well.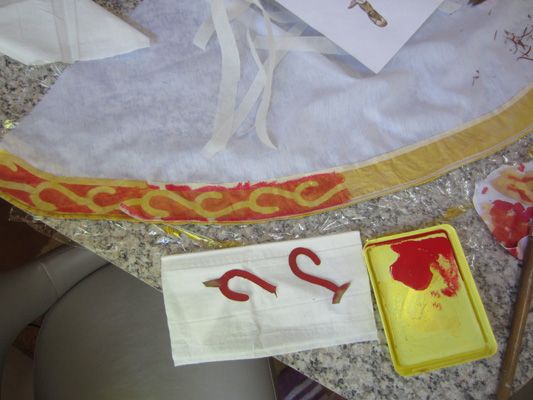 So after a lot of experimenting with my mediums, I found that a cardboard mask and a less paint-loaded brush would get the desired effect of the design. The edge of the border design was also masked off with masking tape strips that I measured and cut whilst it was stuck to baking paper - quite tedious, but it meant that I could could get the sizing of everything exact. :D
When that was done, the skirt was lined to reduce transparency of the cotton-silk, and all parts of the toga were handsewn together to try and create a seamless result.
PRO TIP!
When working with loosely woven fabrics like silk or chiffon, hang them for a few days to allow them to 'drop'. As the fibers aren't as tighly woven, they will be prone to gravity affecting their weave which will warp hemlines over time.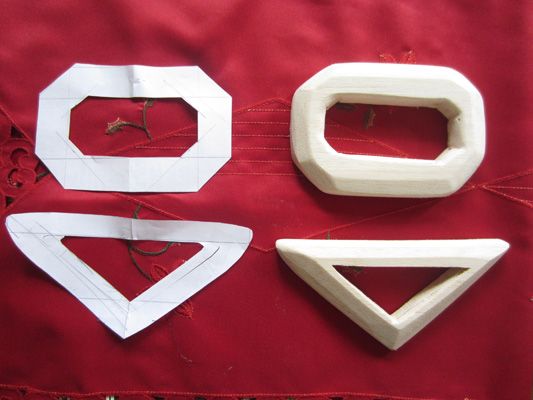 There are buckles on the front and back of Pit's belt, so to create these I scaled screencaps to fullsize, and drew the measurements for the pattern of them from that. I then laminated balsa wood together and cut the belt shapes out. They then had bevels sanded into them, were spray puttied, sanded again, primed, painted and sealed.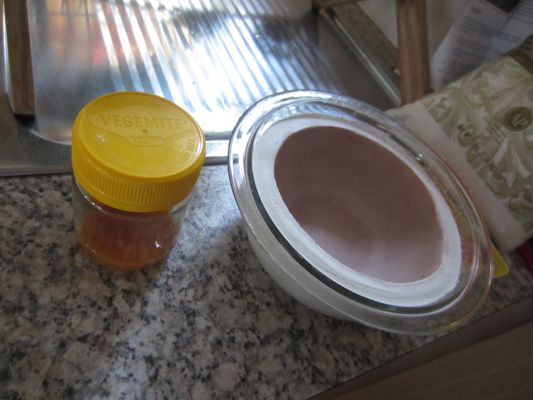 Initially I cast Pit's shoulder gem using a 'large' half-sphere mould, but it was comically tiny. So failing finding larger moulds comercially, it was time to create my own. I was generously loaned a workmate's exercise ball-weight, and cast it in a cooking bowl of casting plaster. The plaster was then sealed with many layers of shellac (left) to create the final mould.
And this is final gem being moulded! Unfortunately, to be released, the mould had to be destroyed - but it was well worth it for the big shiny! The only downsize to having such a large gem cast in resin was the weight - 350g isn't easy to affix to your shoulder. I ended up having to put it onto an MDF plate that was pinned through to my wing harness.
The gauntlets were simple enough to create - but did involve some tricky handsewing. I created patterns from cardboard, and papier mached to reinforce their shape before covering them in the same suede from my belt. The golden edges were created by covering square-cut rubber tubing in gold spandex and then securing it's edges to the gauntlet.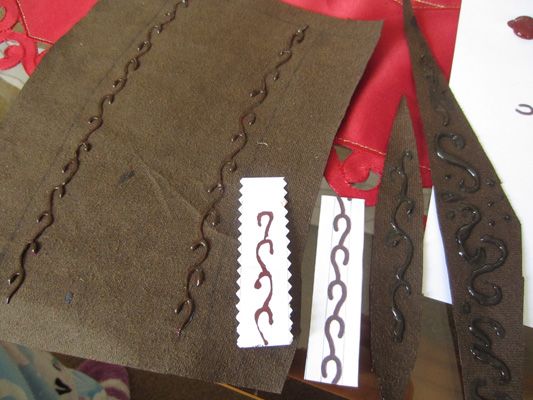 There are some very subtle designs on the gauntlets that match the toga, so after tracing them onto the suede, I went over them in puff paint to give them some form and dimension
I have a very bad habit of leaving footwear until the last minute...and this costume was no exception. I was incredibly lucky to find a base sandal on eBay with straps that would be mostly hidden by the design. Though I still did have to unpick the two straps, and re-attach them to the ankle straps so they wouldn't be seen.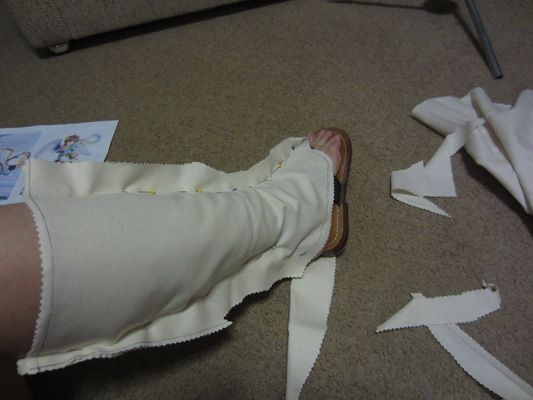 Pinning rectangles of calico around my leg whilst wearing the sandal enabled me to get a pattern (just draw where the pin line is, and add seam allowance - this is the same technique I use for all my boot/shoe covers). I could also find out how long the zip down the center back of the cover would need to be so I could comfortably get my foot in and out.
The pattern was then cut out, sewn up and had a zipper put in the back. I then secured it the existing toe piece in the sandal, but had to handsew on the criss-cross binding detail, as well as the fur trim which was salvaged from the lining of a vest.
The foot straps were much easier to pattern, and I just added some wadding and satin stitching so they weren't so boring. Unfortunately, they were incredibly difficult to attatch to the sandal, as I had to handsew them through leather and adhesive at very awkward angles.
Compared to the rest of the costume, Pit's prop was very easy to make. I just patterned the pieces, cut them out of MDF, and (more or less) kebab'd them onto some dowl so that the two swords can split apart, or join together as a single weapon.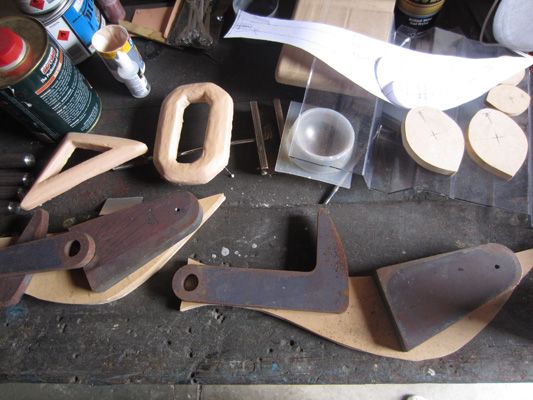 Here's the sprayputtied buckles setting, and the MDF for the sword blades laminating. Bevels and edges on the MDF was created using a lathe which is far more efficient on harder woods.
Now, with all that done I just had to make some wings for my performance! Re-scaling an artwork of Pit with closed wings, I made a rough pattern to work my wire frame around to make the base of the wings, which was then covered in wadding.
PRO TIP!
There is no need to cover the wire frame of wings in chicken wire or any other 'strengthening' medium. The only thing going on the wings are feathers, which hardly weigh anything - so any addictional 'strength' will only add weight and bulk.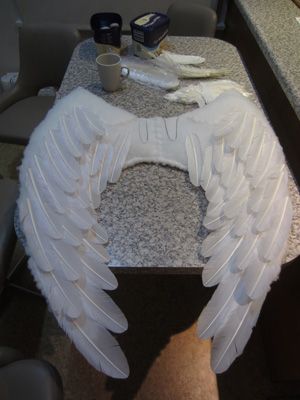 And then several nights and orders of feathers, the wings eventually got done! For reference, I used about 150 white turkey wing feathers, as well as feather trim to finish off the top.
Note - the wings in the top image of this post were borrowed from a friend for a convention where I couldn't take these wings with me.
Much thank-you to my dad, as well as Blair and Jay for assisting cutting feathers and painting backdrops in the days leading up to this costume's completion. :)