Making of Jiji (Kiki's Delivery Service)
Date

2014/01/03/Fri 20:22

Category
I was asked by a friend a few days ago if I could make a plushie of Jiji from Kiki's Delivery Service for a shoot, it was a bit of a tight schedule (and I've been sick with a cold :[) but I couldn't say no to such a cute critter!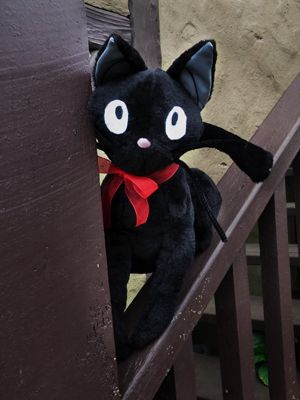 It's been a while since I've made a plushie, and I'm a bit out of practise with transferring 2D things into 3D objects, but it wasn't too much of a challenging project, so I finished in about 6-7 hours over two days. The key with making plushies is just LOTS of shapes, and modifying them until you're happy with how they appear.
I started by gathering references, and also seeing what other cosplayers had done. I was given a short pile black fur to work with, which worked really well (minimum fluff floating around the house! :D). The refrence I've printed off, is also the size that the finished project is to be - so that really helps with measurements and scaling things.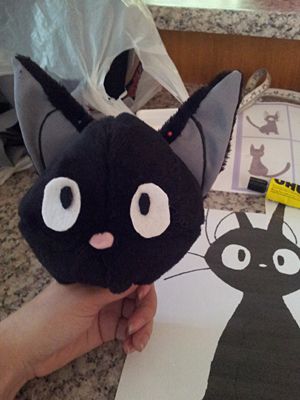 To create a sphere with plushies, you essentially start with 4 'lemon' shaped pieces. I exaggerated the curve of the lemon so that Jiji's head would be more like a rounded diamond, though did end up curving off the top seam so that he didn't have such a dome head. I think heads are the best place to start so you can get an idea of expression for the rest of the plushie - his eyes are just some bits of felt, whilst the nose is a small bit of cork that's covered in polarfleece, and sewn into the seam.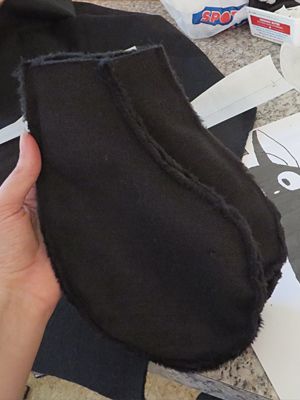 For the body, I used my reference to size the height and width of my main pattern piece, and then the spine and belly pieces were just two long rectangles that tapered towards the neck - I cut them in two pieces so that the pile (direction) of the fur would be going in the right way. :)
Simpler pieces like the legs just required two pieces of fabric, and I stuffed them quite solidly so that they'd be able to hold Jiji up. I also threaded some pipe cleaner whiskers through his cheeks, and sewed his tail into the butt seam. Then it was just a matter of sewing everything on to him, and tieing a red ribbon. :D
Because I change shapes so much whilst I'm sewing them, it's difficult to describe how I make plushies, but here's the pattern pieces that I made (although they ended up getting modified).
Top row: back leg (outer), head, ear (outer), ear (inner), back
Bottom row: back leg (inner), front leg, body profile, belly