Making of Mon Amour Circus (Sakizo Illustration)
Date

2014/09/03/Wed 22:08

Category
Sakizo's illustrations, and circus are two of my favourite things, so I couldn't say no to making a costume that incorporated both!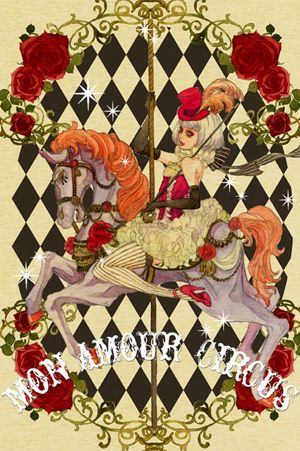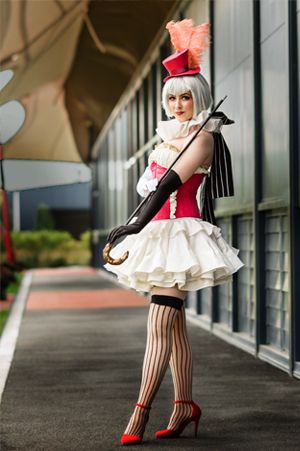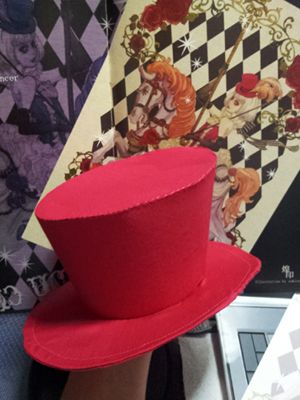 I started this project from the top, quite literally, tackling the cute little mini top hat first. I started by making a mockup of my pieces out of cardboard and taping them together until I was happy with the size and ratios of everything. To add to the fun quirky circus feel, the hat is actually made so that it's asymmetrical with the top of the hat offset to a side and slanting forward. Once I'd worked out all these angles, I went ahead and cut the pieces out of buckram, fused them with my fabric and hand sewed them together. To finish off the hat I added some blinged ostrich feathers and a nice wide grosgrain band.
Next was the neck ruff! It's been a while since I've made one, and it's not quite as full as I'd like because I was being a bit scant with my fabric. The ruff was edged in lace and reinforced with interfacing and tulle. The ruff also has a nice big bow on the back! I recreated the pattern on this by sewing very narrow strips of ribbon onto interfaced black fabric. I finished the bow up with a big buckle, and it closes the ruff at the back with a hook and eye.
Continuing the circus-y theme, I made my underdress as a strapless leotard, which was a bit of a gamble, but with the right elastising of the bust, worked out very well! To the left I've added in the fabric and lace overlay for the bodice, and started marking out where details would need to go. I also added in leg elastic by sewing a channel onto the legs of the leotard and threading elastic through - it's very important to do this for leotards so that the fabric stays around your butt.
Bust detailing coming along well! :D
For the skirt of the costume, I started by making a double layered 2-circle skirt, thinking that it'd give me enough fullness - I was wrong! I added in two layers of ruffle-edged tulle underneath, and it gave a much better result. The progress of one of these is to the left, whilst the right demonstrates how I finished all of my ruffles - with a rolled hem filled with fishing wire so that a small ruffle could be held.
To cut a bit of time off of production, I opted for making a cover of pre-bought corset which worked really well, and I'd definitely recommend to those who are a bit daunted by corsetry. To make the pattern for the cover, I just laid out the corset on some paper and pinned the corset pieces one-by-one, later tracing out the piece with the help of the pin markers.
When each side was sewn together, and had been detailed, I just had to fit them back to the corset to make sure that they fitted...
...and add in eyelet and busk holes! Then it was just a matter of hand stitching the cover onto corset.
Simples! :3