Making of Circus Sayaka (PMMM card game art)
Date

2014/12/19/Fri 14:57

Category
About six months ago, a friend asked if I'd seen the new circus outfits for the Madoka girls...I hadn't. But! I squealed with so much joy when I saw them! Circuses are one my longest loves, and pairing things with magical girls makes everything better! This whole project was so much fun to work with, and I'm really glad to have gotten to perform in such a fun, playful skit with some of my best friends. <3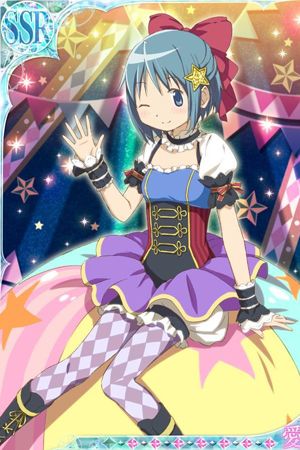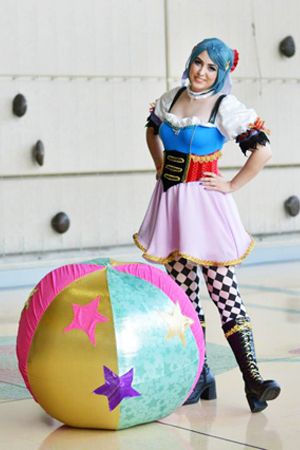 Photo -
Matt
@ Brisbane SupaNova 2014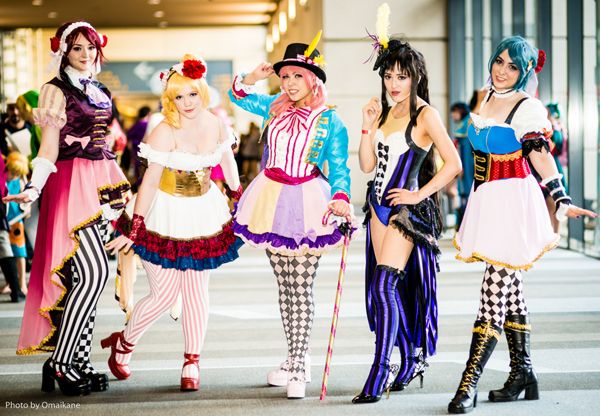 Kyoko -
Blair
|| Mami -
J
|| Madoka -
K
|| Homura -
Aly
|| Sayaka - Siera
Photo -
Omaikane
||
skit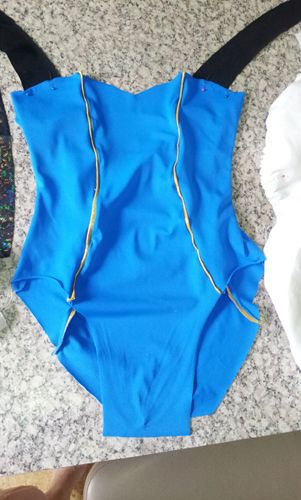 I started by making a basic leotard out of blue lycra, marking in the sweet heart neckline, and the seams where I'd sew the gold piping into. The offcut from the shoulder/chest of the leotard also served to help pattern the shoulder straps which were made out of a black oil spill lycra, and had the puff sleeves sewn into them.
The corset was a bit tricky as I made the striped pattern by sewing alternating strips of stretch velvet together. Every few stripes was also 'lined' with a backing stripe so I could ease some plastic boning in to make sure everything sat well and didn't roll or warp out of place. I purposely made it a bit long so I could cut back the excess where necessary. But on reflection, I probably would've preferred to have left it a bit longer for a more flattering shape.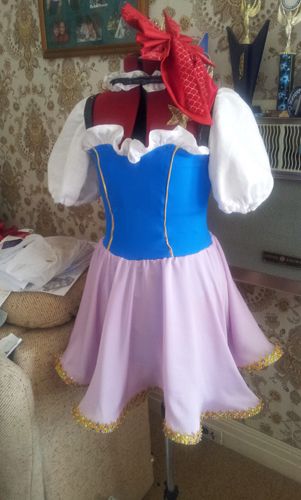 The completed leotard is shown here with the bust ruffles sewn into a facing, and with bloomers that I made from the same fabric as the sleeves. It's got a lurex thread spun through it to tie into the ~pretty sparkly~ theme. The skirt was just a simple circle skirt with horsehair braid sewn into the hem.
Here the corset's been finished with eyelets and gold lacing. The hairbow's made from interfaced silk for some structure, and then decorated with stripes of fabric from the corset so they match. :D
I also helped our Kyoko with some of per costume! The pattern on the sleeves was created by fixing strips of pink glitter chiffon and satin stitching the edge in gold metallic thread - so sparkly!
When satin stitching or embroidering fabric, it's so important to iron your work afterwards. This will help set the embroidery thread and just make everything sit much better. Here you can see the difference between ironed, and not ironed. D:
To finish off the sleeves, I hemmed a channel for elastic, and covered it with a ruffle of matching gold embroidery and sparkle trim which was hand sewn into place.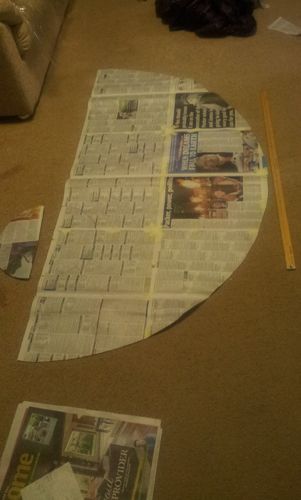 The skirt pattern is also a circle skirt, like mine, but a lot larger and with the hole for the waist offset to create the fishtail effect.
Unfortunately the chemise isn't really seen, but I really enjoyed the patterning of it and creating yokes for the front and back.
Unfortunately I didn't get time to take many WIP shots of the waistcoat - and this is all I have :( It's made from an interfaced satin (same as the lining of Kyoko's skirt) and lined with the collar and lapels made from interfaced oilspill lycra. It was a bit tricky, but to keep the lines at the front nice and clean, I opted to put an open-end zipper in the back, along with a clasp to loosen or tighten.
And then I just had to make little matchy hand-gloves for us both, and a cover for my giant beach ball! It was a lot of guessing and crossing fingers to hope that I could make it fit. D8